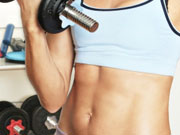 Ab Lounge - Can Your Really Get A Six Pack
with This Ab machine Only?
The Ab Lounge took over late night television for quite some time. We could not flip through the channels without seeing an infomercial for it. You surely have wondered about whether it works or not.
There are so many exercise and weight loss gadgets out there that are not effective, so it is perfectly normal to be skeptical about this one.

Here we are going to examine this device and see exactly what it can do.

What the Ab Lounge Can do for You?
This is a good option for abdominal exercises, especially for beginners. It will ensure that you are using proper form which helps to both prevent injury, as well as ensure that the exercises are done correctly. Doing exercises correctly ensures the fastest results.
This device allows you to work smarter and not harder. This is true by looking at the device's design. The user will lie in the chair, put their feet in the foot rest and the reach above his or her head and grab the bar. Then, the user just has to pull into a crunch and then release it. It really does make crunches easier. Users can do traditional crunches as well as side crunches with this device. This ensures that all abdominal muscles are targeted and worked to their fullest.
What the Ab Lounge Can NOT do for You
This device cannot give you a full body workout. It also will not burn away all of the belly fat. Cardiovascular exercise that raises your heart rate and metabolism are necessary for fat burning. For example, if you work your abdominals and build up strength and tone, but do not do what is needed to burn abdominal fat, you will have great abs that no one can see because there is fat covering it. So, when combined with a complete workout routine and used regularly, you will be able to get results, but this device cannot do it all by itself.
Ab Lounge Versus Regular Crunches
The Ab Lounge allows you to go back further which does add to your abdominal workout. When you are doing crunches you can only return to a 90-degree angle. This device allows you to go beyond this so that the muscles have to work harder to pull you back up. The harder we work out muscles, the faster we will see results. This device also comes with an instructional DVD that tells you exactly how to use it and exactly what you need to do to get the results that you want. It gives you specific abdominal exercises that when used with this product are designed for results.





1 - Basic Oblique Jackknife

Ab Lounge - Basic Jackknife
3 - Jackknife with Leg Life

Ab Lounge - Basic Jackknife
4 - Extended Arm Jackknife

Extended Arm Jackknife
with Ab Lounge
5 - Extended Leg Jackknife

Extended Leg Jackknife
with Ab Lounge
6 - Torso and Hip Flexor Stretch

Torso and Hip Flexor Stretch
with Ab Lounge
7 - Advanced Jackknife (Bonus Exercier)

Advanced Jackknife
with Ab Lounge
Does the Ab Lounge Really Work?
Well, yes, it does work. However, you will not have a six-pack in 30 days. You also have to use this contraption exactly as indicated for it to provide maximum results. For example, you need to use this at least three to five times a week for the designated amount of time. There is a 20-minute workout DVD that comes with this product. Beginners can start with 10 minutes and work their way up to the full 20 minutes. This also needs to be done along with regular cardiovascular exercise to truly burn fat and sculpt the abdominal area.
What is nice about this is that it can be used by most people, including those that have back pain caused by non-serious issues. There is a handle you can use to pull up if necessary, lessening the strain on your back.
Understanding a Complete Workout
A complete workout exercises all muscle groups. The Ab Lounge can help you with your abdominal muscles, but you will have to do more if you expect a fully toned and fit body. You will need to also strength train your arms, chest, back, legs, shoulders and glutes. It will take a variety of exercises to achieve this.
Next, you need to flexibility train. A body that is not flexible is prone to injury. Building flexibility involves a combination of complete stretching and balance exercises. Yoga is really good to achieve both balance and flexibility. You also want to do a 10-minute warmup before any stretching because stretching cold muscles can lead to injury.
Lastly, you need cardiovascular exercise. For adults, the average is 45 to 60 minutes of vigorous cardiovascular exercise three to five days a week. If you are a beginner or have health issues, you may want to start slower and build your way up. You should also talk to a doctor before starting any fitness program.
save 20~50% ~ Sign up Monthly coupon now
AB Lounge Exercises