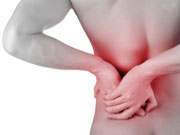 How Lumbar Back Cushion Helps Prevent Back Pain
Preventing back pain is a goal that everyone should have. One way to do this is to ensure that you are practicing perfect posture at all times. Most chairs do not provide enough support to do this, so using a lumbar back cushion can help. These will help you to maintain proper posture and alignment.

◎ Benefits of the Lumbar Cushion
Reduce lower back pain
Corrects posture
Prevent back pain
Relieve tight back muscle
Regular price:
$250
NOW ONLY
US $49
Shipping $20

Types of Lumbar Back Cushions to Help Prevent Back Pain
There are many different types of lumbar cushions. One of the most common is simply a cylinder of foam that is placed at the small of the back. This helps to maintain the natural spinal curve.
There are some that offer a massage while providing support. These will require batteries and they have a massage motor in them. They are not hard due to the motor, but do offer a relaxing massage. These are probably not the best idea when driving.
They have lumbar cushions that are made of materials that are temperature sensitive. This means that it will support the spine without causing your lower back to become warm and sweaty.
Some lumbar support cushions have a strap that you wrap around yourself like a belt. This helps it to stay in place. This is a really good option if you find yourself moving a lot, as you will not have to keep readjusting the cushion.
Some lumbar cushions double as a heat pad. These will help you keep your spine in alignment while giving off gentle heat to help keep muscles relaxed.
How to Properly Use a Lumbar Back Cushion to Prevent Back Pain
The cushion should be placed vertically in the chair. It is important to sit down before placing to ensure that the placement is right. The cushion should be right at the small of your back where your spine curves. Adding a foot stool to the mix can also be helpful in preventing pain when used with a lumbar cushion.
When you are sleeping, your lumbar pillow should actually be used at your knees. If you sleep on your back, you should have this placed right under your knees. Lying complete flat without the knees elevated puts major strain on your back. If you sleep on your side, place the pillow between your knees. This will help to keep your spine in its natural position. When the spine is forced out of its normal position, pain results.
When to Use a Lumbar Back Cushion to Prevent Back Pain
When you are at work and spending the greater part of your day in an office chair it is important that this chair be supportive and comfortable. There are office chairs that offer both of these, but most do not so you will have to make it work. A lumbar back cushion is something that you can use to make it work.
Most of us do not think about lower backs when we are driving, but taking a drive of more than 15 minutes without the proper support can have negative consequences. Think about how your lower back feels after driving for hours. Adding a lumbar support cushion can help to prevent this.
When we sleep our spinal alignment is often at its worst. Mattresses really do not offer the support we need. Taking a lumbar support pillow and placing in between your knees is the best way to help your lower back. This should help to eliminate that morning back pain, as well as the pain that wakes you in the middle of the night to turn over to a more comfortable position.


Lumbar Traction
Regular price:
$250
NOW ONLY
US $49
Shipping $5

Specifications - Lumbar Traction
Product Picture
Belt Weight : 0.9lbs
Pump Weight : 1.3lbs


Belt Size : 1200mm(Width) X 130mm(Height)
47(Inch) X 5(Inch)
Pump Size : 2400mm(Width) X 80mm(Length) X 70mm(Height)
9.5(Inch) X 3.2(Inch) X 2.5(Inch)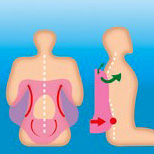 Lumbar Traction