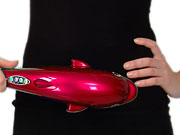 Amazing Portable Hand Held Massager For Back
Get soothing relief with this portable massager! This portable massager provides you a great way to relax and help alleviate musculoskeletal conditions. Great For your legs and hips, back, hands and arms, and your feet.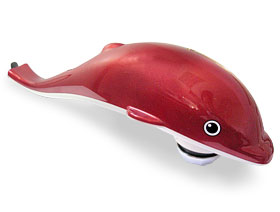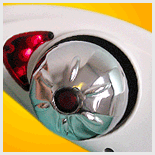 The Hand Held Massager is lightweight, ergonomically shaped and affordable. It gives you a powerful percussion massage that penetrates deep into your stiff muscles. This electrical massager is easy to hold and comes with two adjustable speeds. Use this handheld massager to reach the often hard to massage areas of the shoulder and upper back.
Hand Held Massager With Infrared Rays For Quick Muscle Relief
Massaging your body everyday for 10 minutes helps remove excess fluids and toxins, thus helping to reduce pain and muscular tension. This unique handheld massager emits Infrared rays for soothing warmth to the skin and muscles. This lightweight portable massager gives you strong vibration and tapping massager. Great for massaging your back with the long handle
Soothing Massager with Rubber Massage Ball
With three different interchangeable rubber massage you can massage the bony areas without causing pain or injury. Try this portable massager to get acupressure massage today
The soft elastic Massage Ball can be used anywhere on the body to relieve tense muscles and reduce pain. With the massager ball this electric massager becomes your personal acupressure massager.
Testimonials
"This is very low price massager. I thought this massager will break after several times, but it's one of the best massagers I have ever used. It's very POWERFUL. However, it does a fine job at loosening stubborn and painful muscle knots a. Great massager for this price. "
Anita, Seattle, Washington
"This lightweight massager is easy to use and vibrating massage is powerful enough for me. The attachments are nice to have because it allows you to use the machine on different muscles depending on what you need. It's fairly lightweight compared to other machines and it's durable machine for such a low price. I still use it after several years"
Beatrix, Phoenix, Arizona
How To Use Portable Back Massager
Plug in massager's power cord into wall outlet.
Press the orange power button to turn on the massager (press orange button again to turn off)
Increase the intensity of the massage by pressing on the + button. Press the button to decrease the intensity of the massager.
Specifications - Portable Massager
Safety & Cautions
Weight: 2.4 lbs
Voltage: 110
Interchange massage heads: 2 pieces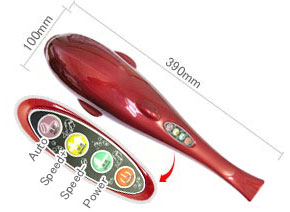 Unplug the power cord after using the massager
Dolphine handheld massager