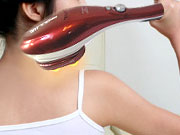 Percussion Hand Held Massager
This percussion hand held massager gives you strong and soothing massage. Massager your legs and hips, your back, your hands and arms, anywhere and anytime.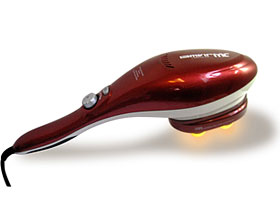 What's So Special About This Percussion Massager?
This Professional Percussion Massager has four massage head, which gives you deep massage. The hand held massager works on your tired muscles with up to 3,000 pulses per minute.
It's lightweight, ergonomic designed and has an extra-long cord for easy maneuverability. Compact head design and angled handle for use on all parts of the body. This four head body massager comes with infrared rays.
Try this hand massager on your legs, feet, neck and shoulders for better blood circulation, improved joint flexibility.
Infrared rays
Percussion
Testimonials ~ Percussion Massager
"i am very satisfied with this massager. My complaint with most massagers is that they don't do enough. They are too weak and ineffective. But this one is great and really gets the work done. It's powerful enough for me.
Jason, Bellingham, Washington
"This is a pretty good massager. The heat function is great and the power is good enough. You can adjust the intensity level by rotating the power button. Great for people with sensitive skin or for those who can't handle a powerful deep massage. The 4 massager heads are a nice plus."
Anna, Santa Maria, California
How To Use Perucssion Massager
Plug power cord into wall socket
Turn the big silver button clockwise to activate the machine
Increase the intensity level by further turning the silver button to the right
(Turn to the left to lower the intensity and to turn off the massager).
Turn on the infrared heat by pushing the small button on top of the power button
Specifications - Percussion Massager
Safety & Cautions
Weight: 4 lbs
Voltage: 110
Infrared Heat: YES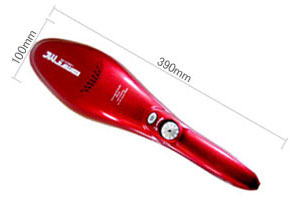 Unplug the power cord after using the massager
Percussion Hand Held Massager