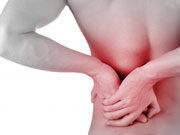 ChiOndoTM Heating Pad ~ Get Back Pain Relief
Are you suffering from back aches and pain? Is it bothering you at work? Don't let back pain stop you doing your favorite daily activities.
Looking for an easy and fast way to get back relief? Now, with a portable heating you get a sensational relief!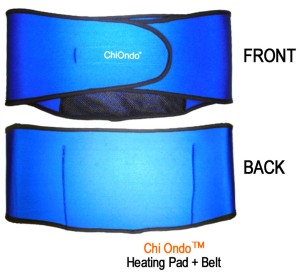 ChiOndoTM Ceramic Heating Pad
Handy Back and Shoulder Pain Relief
Back
Shoulder
Simply the easiest, most convenient, safest Heating Pad you'll ever use!
Get
Heat Pain Relief:


You're On-The-Go with ChiOndoTM

Alleviate aches and pains on the spots you need it most, your back and shoulders.
Wherever you are! Whenever you are!


An easy and fast way to get back relief –
the ChiOndo Heating Pad
Don't let back pain stop you. This heating belt is portable and easy to use. Just microwaving the ceramic pack for 3 minutes, then gives you relieving heat emitted for up to 3 hours! No more hassle with electrical wires. No need to sit in the same place for hours.
This microwavable heating pad provides you with sensational heated relief. Simply place the heating pad in the belt and wrap it around any part of your body to enjoy the relaxing heat. Relieve stress and back muscle tension on-the-go with the
ChiOndo Heating Pad
.
ChiOndo Ceramic Heating Pad Is Easy, Safe, and Portable.
Get your relief with portable heating while doing your daily activities. Even Outside! Such as walking, exercising or yard work. You can even wear the belt while driving. Imagine, soothing heat relief while you're out running errands and shopping!
Heat has long been a natural remedy used to relieve pain and to enhance the recovery process. Heat therapy increases blood flow, which helps to decrease stiffness, relaxes sore muscles, and provides soothing comfort. This heating pad is a great way to apply therapeutic heat body to manage and alleviate pain.
WHERE it hurts. WHEN it hurts. WHILE it hurts.
You're On-The-Go with ChiOndoTM
Get
Heat Pain Relief: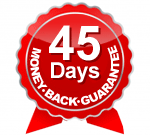 +
1 Year Warranty
You're On-The-Go with ChiOndoTM

Treat with Heat

Get

Pain Relief:
Office Workers –
Why are you allowing yourself to suffer while at work?
No more need to wait till you get home.
No more embarrassing wires and tell-tale 'clicking' in your cubicle from electrical heating pads.
No more embarrassing wetness from hot water bottles that only stay warm for a few minutes anyway.

Right at your desk, alleviate backaches and pain, arthritis symptoms, neck pain, and more!
Suffering because you're spending too much time in front of your computer?
Now you can get soothing relief right there instead!


Summertime…
and the living is…..freezing!
When the air-conditioning is uncontrollably cranked
warm your chilly self with the ChiOndoTM Heating Pad.


Weekend Warrior
Be Honest
Over-doing it on the weekend, again?
You're Back-to-work with joint stiffness, muscle sprain, neck pain? Must be Monday!


Don't Wait To Treat It "till you get home".
Start treatment right away; relieving the tension, the muscle aches, the joint pain and muscle sprain as soon as you get up Monday morning. Wear it during your commute. You will not only be relieving your pain, tension, and muscle aches, but at the same time reducing the stress and tension from navigating heavy traffic. In the car! While you're driving!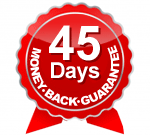 +
1 Year Warranty
Why Is the ChiOndo Heating Pad Better Than All Other Heating Pads?
The secret is in the ceramic! The heated ceramic pack that is placed in the belt emits infra-red heat, Far Infra-red (FIR) heat. FIR heat penetrates deep into the body, harmlessly. Added protection comes from the
ChiOndo
soft cloth belt, keeping the heat and the pad from harming your skin.
What Makes The ChiOndo So Special?
Even Compared To Other Heating Pads?
The
ChiOndo Ceramic Microwave Heating Pad
Keeps the Heat Longer than any other heating pad. Emitting FIR heat for up to 3 hours! While most other microwaved heating pads may emit heat for only 60 minutes. Just microwaving
ChiOndo
for 3 minutes, it then stays warm for 3 hours.
And Safe, it will never explode after heating because the
ChiOndo Ceramic Microwave Heating Pad
contains no liquid or plastic. Far Infrared (FIR) is the safe part of the spectrum of light.
No Leakage-Very Strong Far Infrared Rays-100% Ceramic Powder Only
Get
Heat Pain Relief:


You're On-The-Go with ChiOndoTM
Relieve back and shoulder pain
Helps skin stay softer and healthier
Improve metabolism
Relieve tension and muscle aches
Alleviates Fatigue
Total relaxation and reduces stress
Relieves joint pain & muscle sprain
Soothing Muscle Relief
How To Use ChiOndoTM Heating Wrap
Take the heating pad our of the velcro wrap
Place the heating in the microwave for maximum 3 minutes
Take the heating pad out of the microwave and place it back to the velcro wrap
Use the velcro to strap the heating pad around your body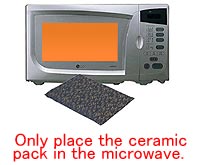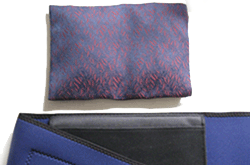 Specifications - ChiOndo Heating Wrap
Safety & Cautions
Weight: 4 Lbs.
Dimension Heating pad:
18 cm (width) X 24 cm (length)
Dimension Velcro Wrap:
22 cm (width) X 1,1 meter (length)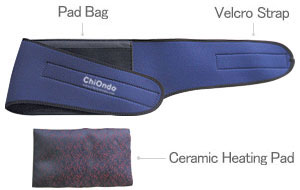 Do NOT put the heating for longer than 3 minutes in the microwave
Do NOT place the heating directly on the bare skin
ChiOndo Heating pad ~ Get Back Pain Relief