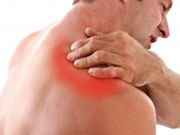 ChiOndoTM Shoulder Heating Pad
Pain Relief Anywhere Anytime
Feel the deep, penetrating, sensational heat relief deep into your sore shoulders with the
ChiOndoTM
infra-red heating pad.
Fits Any Sized Shoulder Area!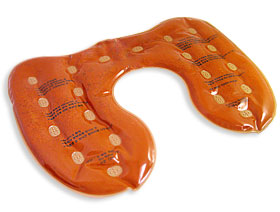 Designed to fit around your neck like a collar,
the "U" shaped cutout delivers soothing, moist, heat to your neck and shoulders (trapezius and deltoid muscle regions).
The ChiOndoTM infra-red heating pad
provides easy comfortable relief right in your home.
How Can This ChiOndoTM Shoulder Heating Pad Help You?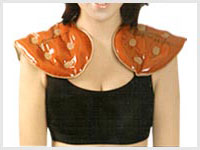 Relieves:
shoulder & back pains - joint pain & muscle sprain - tension and muscle aches
Relieve Your Tight Neck & Shoulder Muscles with ChiOndo Shoulder Heating Pad
The ChiOndo Shoulder Heating Pad is a great way to manage and alleviate pain in your shoulders and neck using heat therapy.
Heat relieves pain. Heat has always been a natural remedy used to relieve pain and enhance the recovery process. Heat therapy provides soothing comfort by increasing blood flow, relaxing sore muscles, and helping to decrease stiffness.
Don't wait until you're in pain
to use the ChiOndoTM Shoulder Heating Pad!
Feel and enjoy the benefits of on-going use
Using it for only 15 minutes daily will have your neck and shoulders always feeling great! You'll get relief from stress and tension. By effectively stimulating the contraction and release of blood vessels, alleviate fatigue and improve your metabolism. Total relaxation and stress reduction alleviating fatigue.
The
ChiOndo shoulder heating pad
provides you warm, pleasurable, sensations promoting blood circulation helping to keep skin looking and feeling softer and healthier. And it'll help to make your skin remain that way.
Infra-red Heating ChiOndoTM Shoulder Heating Pad
This
ChiOndo Shoulder Heating Pad
is made of special fine-grained clay; loess. The secret is in the loess! The heated pack emits infra-red heat, Far Infra-red (FIR) heat. FIR heat penetrates deep into the body, harmlessly. The ChiOndo Ceramic Microwave Heating Pad Keeps the Heat.
Emitting FIR heat for up to 3 hours! While most other microwaved heating pads may emit heat for only 60 minutes. FIR produces heat more efficiently because it matches your body's own emissions and penetrates even deeper into the skin.
Review of ChiOndoTM Shoulder Heating Pad From Customer
Long Lasting Relief
The loess is able to keep heat for a long time, giving you a long lasting relief. Just microwaving
ChiOndo
for 3 minutes, it then stays warm for 3 hours. The outside material of the
ChiOndo
Pad is made with special plastic that withstands intense heat. Plus the different textured sides allow you to enjoy varying intensities of the heat by turning it over.
Health Benefits Of Far Infrared Heat
Helps purify skin
Helps restore damaged cells
Increases the immune system
Detoxifies the body  
By placing this heating pad around your shoulders far infrared can go deeply into your body.
Together with the heat it can help your body heal from infections faster.
Research Have Shown That Far Infrared Is Safe and Effective for Body Healing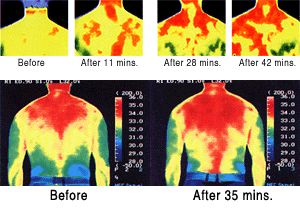 Scientists have shown that Far Infrared Therapy increases blood circulation of the human body. This helps promote the healing. Far-Infrared (FIR) heat is invisible for the human eyes, but completely safe.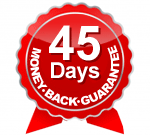 +
1 Year Warranty
How To Use Shoulder Heating Pad
Wrap the shoulder pad in a towel and place in hot water for 7-10 minutes;
Remove the pad from water
* DO NOT HEAT BIOPAD WHILE WATER IS BEING HEATED
Specifications - Shoulder Heating Pad
Safety & Cautions
Weight: 4 Lbs
Dimension: 17 inch x 13 inch (43 x 33 cm)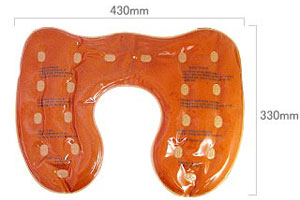 Do NOT put the heating for longer than 3 minutes in the microwave
Do NOT place the heating directly on the bare skin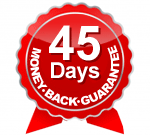 +
1 Year Warranty
Shoulder Heating pad