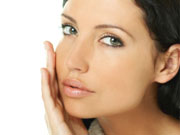 How does Ultrasonic Skin Therapy help Your Skin?
Reduce wrinkles, freckles, stains and double chin with ultrasonic facial massager. Skin treated with this revolutionary facial massager looks younger, because it is healthier from the inside out.

How Does Ultrasonic Skin Therapy Help Your Skin?
The vibration and cavitations of the ultrasonic massager remove old cuticles and oiled waste out of the pores, giving you healthier and firmer skin. It removes the useless layer and shows the tender surface out on your whole body. In addition, ultrasonic wave and galvanic ion effect help your absorption of moisture and nutrition more effective.
How Does Ultrasonic Waves Exfoliate Your Skin?
The Ultrasonic Beauty Skin Device - can rejuvenate your skin back to its natural. The Ultrasonic Beauty Skin Massager produces a high frequency wave (1Mzh - 3Mhz). 3Mhz is NO harm with exclusively pre-heated function, can help enhancing the heat effect and promoting beautification.
Ultrasonic penetrate into deep skin and improve skin elasticity by stimulation
Fasten delivery nutrition into skin.

This facial massager reduces the aging process by tightening and firming your skin.
Partly Slimming
Ultrasound sets up invisible micro-vibrations deep within in the cells, breaking down the calcified fatty deposits. It stimulates the release of toxins and waste products out of the cells and transfers them into the lymphatic system.
Ultrasonic Wave is Invisible for Human Eyes
The ultrasound massager emits a deep micro- vibration so rapid, that it cannot be seen or felt at the surface of our skin. So don't think your ultrasonic massager isn't working!
To test the transmission of ultrasonic waves, put some water at the metal head. You will see vibration of the water, caused by the ultrasonic waves.
How to See The Transmission of The Ultrasonic Waves?
Select ultrasound mode

Select a step

Put some water or alcohol at the metal head of the facial massager
Touch the metal with one hand while holding the facial massager with your other hand.
You will see the vibration of water, caused by the ultrasonic waves.


Fyola LiteTM
Regular price:
$289
NOW ONLY
US $59



+
1 Year Warranty